---
Textbook to Table's Annual Event Explores Plant-Based Eating, Sustainability, and Indigenous Knowledge
Students and guests ate plant-based foods while learning about the health and medicinal benefits of plants on a global scale—and also about how many medicinal plant species are under threat of extinction—in the annual Culinary Community Share Event that ends the course HLTH 328. The course, which is also called Textbook to Table, is co-sponsored by the Center for the Study of Human Health and Emory Dining.
The hour-long event, which took place November 30, included a menu of dishes that HLTH 328 students researched, developed, and shared with the culinary team of Emory Dining, who scaled the recipes up and prepared them for the 90-person crowd.
It was the 7th annual share event for the course, which combines lectures on current evidence with culinary lessons. It is taught by Jill Welkley, PhD, a CSHH associate professor, with the assistance of other faculty and staff, including contributing instructor Teresa Douglas, PhD, an associate staff scientist in the School of Medicine, and culinary contributing instructors Chad Sunstein and Mark Seals, director and associate director of Emory Dining, along with nutritionist Carol Kelly of Emory Student Health Services.
"From the beginning, we realized that talking about evidence in class isn't the same thing as applying it in your own life or encouraging your peers or community to consider applying it in theirs," Welkley said. "That's what this course does. It explores the science of health in terms of plant-based foods in your diet, but then puts that into practice. Students learn to pair ingredients to enhance health and flavor, and to consider cost, access, and maximizing seasonality."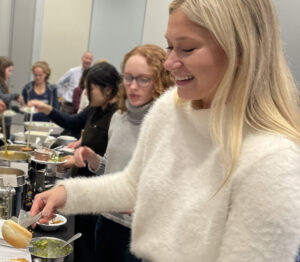 Seasonal, plant-based, sustainable
The foods proposed by the HLTH 328 students and offered at the event were seasonal, and also warming given the windy cold weather that blew in just before dinner began: a soup of kale, quinoa and white beans; a spicy Korean tofu stew; sweet potato chili; and a vegan chickpea soup with garlic and herbs. A choice of leafy salads, plus cookies and dessert bars, were available alongside.
"We wanted something seasonal (because) that's more sustainable," Nitya Koduri said. A junior studying human health and biology, she was part of the team that developed the sweet potato chili, taking advantage of the vegetable's inherent antioxidant properties and high fiber content, which the group thought would contribute to a healthy gut microbiome.
Considering sustainability was an important part of developing the recipes, said Nichole Stettner, a senior majoring in chemistry and human health who had spent the afternoon chopping onions for the white-bean soup. Focusing on plant-based foods "is about being more culturally and environmentally aware," she said. "If you buy locally from local farmers, you know there's less carbon-emission output and less transportation."
Other students said that thinking through the possibilities of plant-based meals gave them an opportunity to consider unfamiliar components. "We chose kimchi because of its rich heritage; we thought it would be more interesting to incorporate something that wasn't part of traditional American cuisine," said Annie Skelton, a senior. Anna Lee, who is also a senior and helped develop the vegan chickpea soup, added: "We really wanted to include different, unique ingredients. Chickpeas are not a super-common ingredient in home recipes."
Speaking up for endangered plants and communities
The importance of unknown and unfamiliar plants was a key theme for the evening's speaker, Cassandra Quave, PhD, an associate professor of dermatology and human health and author of The Plant Hunter: A Scientist's Quest for Nature's Next Medicines (Penguin Books, 2021). Quave specializes in identifying the plants that lie behind folk tales of traditional medicines, finding the plants in the wild, and then taking them into the lab to identify the components that make them medicinal.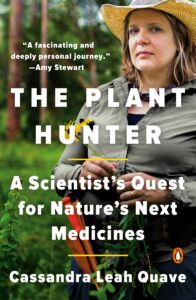 That discipline, Quave told the group, is called ethnobotany. "This is the body of knowledge that tells us that the vegetables we've just consumed are safe to eat," she said. "This is the body of knowledge that tells us how to prepare something that might otherwise be poisonous and transform it into something delicious and nutritious. It's also the body of knowledge that tells us which plants can be used as medicines, and how to prepare them and how to apply them."
But that knowledge is under threat, Quave warned the group. Two out of every five plant species that have been identified are threatened with extinction as land is exploited for development, and the indigenous history that records how plant medicines were concocted is being lost as groups lose land access. This is especially alarming, she said, because undiscovered plant compounds may provide solutions to looming health challenges such as antimicrobial resistance, which has undermined the effectiveness of many antibiotics. (Quave and her lab already have identified compounds that inhibit resistant bacteria in plants as diverse as the Brazilian peppertree, the American beautyberry and the European chestnut.)
"It's estimated that 700,000 people died globally in 2016 due to antibiotic-resistant infections, and scientists project that will reach 10 million a year by 2050,"she said. "If you put this into perspective, in the first year of Covid-19, we lost 2 million souls across the globe. We're looking at five times that number due to untreatable antimicrobial-resistant infections. The big question of course is, Can plants be the solution? And I've placed a pretty big bet on that."
Production partners
Several other classes whose learning objectives align with Health 328 attended the event, including ENVS 323, Sustainable Food Systems (taught by Emily Burchfield, PhD, an assistant professor in the Department of Environmental Sciences) and ITAL 365, Sustainable Food and Italy (taught by Simona Muratore, PhD, an associate teaching professor in the Department of French and Italian, and Taylor Spicer, the interim director of the Emory Office of Sustainability Initiatives). "We were all interested in hearing Dr. Quave speak," said Andrea Frank, a junior taking ENVS 323, "and also in how we can easily make plant-based foods at home, and the importance of them to best perform in all areas."
And that ultimately was the goal: raising awareness within the Emory community not just about evidence-based decisions regarding a more plant-based diet, but also about the endangered kingdom those plants come from. Creating demand for plants could lead to more awareness, not just about plant-based meals, but about medicinal plants and biodiversity as well.
Co-written as a breaking-news exercise by members of HLTH 385W, Fall 2022: Andrew Feld, Chris Ejike, Emily Kim, Gabriella Salazar, Madison Woods, Sammy Ramacher. Editing by Prof. Maryn McKenna and TA J. Raymond.