This year, the Center for the Study of Human Health is organizing a speaker's series on the topic of "Relational Health". This series asks: what are the health impacts of social connectedness and social isolation? As we have all experience some level of isolation in the past year and a half, these questions are on top of mind for many. These events are all free and open to the public.
The first event, "Better Together: Social Connectedness and Physical Health", is virtual and is next Tuesday. It will focus on the impact of social connectedness on physical health. We often hear about the mental health impacts of isolation, but what about our bodies? To explore this issue, we have three excellent Emory experts to discuss various ways to approach this question.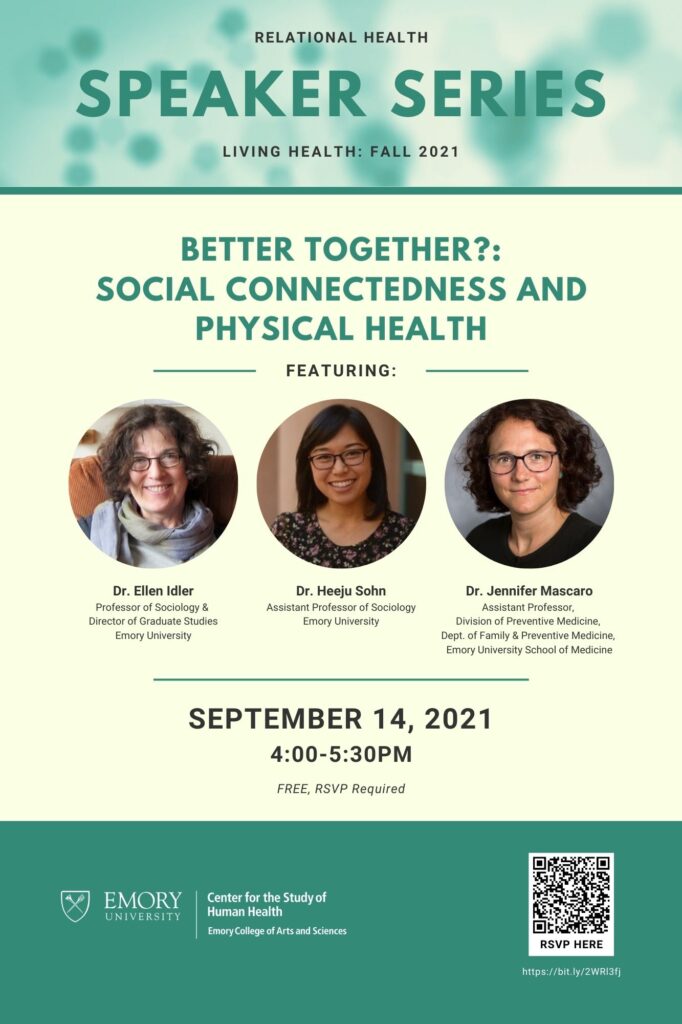 Dr. Ellen Idler will discuss the classic studies that have established the strong connection between social ties and mortality risk, going back to the Alameda County Study, and many since then; important take-aways: it's a dose-response relationship, not just a matter of social isolation; and diversity of social ties is really important.
Dr. Heeju Sohn will highlight on how racial inequities in health and mortality create disparate kin structures that contribute to inequalities in social isolation at the end of life.
Dr. Jennifer Mascaro will focus on the relationship between isolation and immune and brain function.
This event is free, virtual, and open to the public! So please share widely. You can register for the event here.